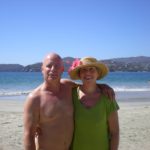 Trueing our Inner Compass                  With Christine Schoper & Steven Baird….all levels welcome! 
One of the ways to be more present in our lives is through the daily practice of yoga and meditation.  During this week, we'll rekindle the inner fires that help us stay true to ourselves and to the needs of this beautiful, troubled world.  We will immerse ourselves in the river of practice in order to steep in the wisdom it brings.  In deep practice we can embody strong bones, supple tissues and an open heart – necessary ingredients for connecting with our underlying courage and commitment to lead a wholesome life.  We welcome you to come join us for this experience!
Each day will include a morning session followed by brunch & ample time to play, explore and rest. We'll come together again late afternoon for restorative yoga….
Our home in Zihua will be Real de la Palma Hotel, just a few minutes walk from the beach. The hotel has two swimming pools and the ocean is warm, protected and lovely for playing in as well.
Kayaks, small sailboats & snorkel gear can be rented on the beach.
Cost per person:
$975 for cabana (2 queen beds & kitchenette) or $850 for spacious hotel room (king bed or 2 twin beds). Price includes room 7 nights, 6 brunches, final celebration meal and yoga/meditation classes and is based on double occupancy. For private room, add $280; private cabana, add $350.  Limited to 18 participants.
Quotes from past participants:  "The ease and flow of this program has become a template for what I aspire to in my daily practice.  What I experienced on the mat in Mexico has supported me in being more intentional about my yoga and meditation at home."   "The location, weather and cultural switch is just disorienting enough to become a warm, welcome opening into acceptance, appreciation and being in the moment if one is willing!"  "I can be on the mat with grace, presence and safety.  I can add my body to mind and heart as I transform."  "This retreat has given me new insights into yoga and the asanas as well as renewed my meditation practice."  "Very grateful for the meditation tools and eager to try them at home." "It was inspiring to be in your presence and to see how you two very capably weave your individuality into a shared offering."
Registration:
Contact cschoper@yahoo.com or (360) 385-7771. Earlybird discount: pay $300 deposit by September 1, 2019 and deduct $100 from full price.  Full payment due by December 15, 2018.  Cancellation policy:  Full refund minus $50 processing fee until December 15…refund only for emergencies after Dec. 15.
Steve is currently studying with the Shambhala tradition and meditates daily, either on the cushion or in life!  Christine has practiced yoga for 20 years and recently received her RYT in the Kripalu tradition. Together they create a lovely, lively retreat rhythm, weaving what they've learned and offering it with gentle guidance and humor.
---
 Retreat Gallery: